Roof trusses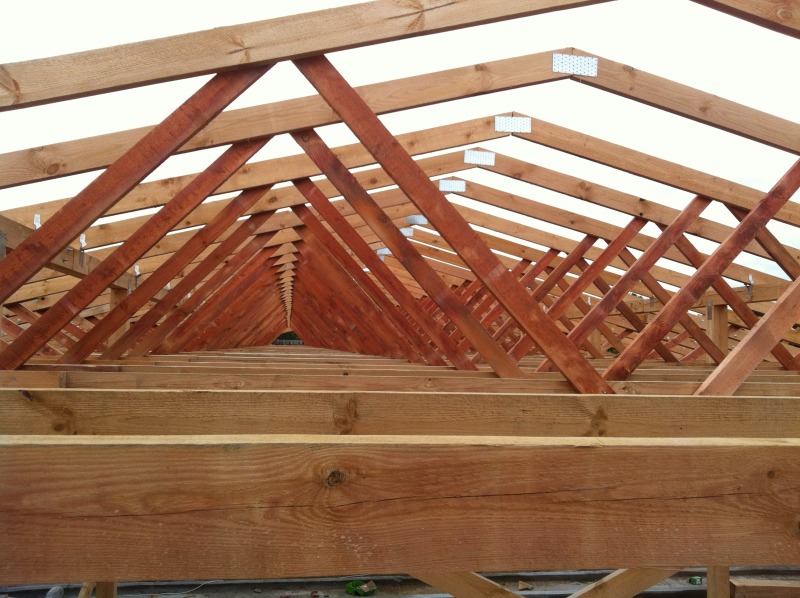 We perform mounting of roof trusses for all types of roof shapes anywhere in Latvia
Depending on the design of your building and your wishes, we will offer the best quality, the most durable and the most cost-effective solutions. We will prepare a cost estimate and a work completion schedule.
Types of roof shapes 
Gable roof 
One of the simplest, most common and cost-effective roof shapes. It consists of two surfaces of the same area, which are connected with the roof ridge; drainage of precipitation is performed on both sides. The advantage of the gable roof is its easy maintenance as well as the flexibility to cover it with almost any roofing.
Mono-pitched roof 
This roof shape is usually chosen for small (up to 10 m wide) buildings, for example sheds or garden cottages. Shape of a mono-pitched roof provides for drainage of water on one side.
Four-pitched, i. e. hip roof 
This roof shape structure is a tad more complicated than the structure of gable or mansard roofs, so cost of mounting both, the roof trusses and roofing, will be higher. All four roof planes are used for drainage of water. Usually these roofs are chosen with a purpose to create additional living space on the roof floor.
Broken or mansard roof 
The mansard roof consists of four planes, two on each side of the roof of the house, the lower slopes being steeper. Advantage of a broken roof is a additional living space.
Pyramid-type roof 
Such shape used to be popular for the so-called mushroom-shaped buildings. Typically, these roofs are lower than gable roofs and are installed for residential buildings, garages, household buildings and garden cottages.
Asymmetrical roof 
A commonly used roof shape in modern private house architecture, which gives a character to a building, and also allows to create a more interesting interior layout for a building. Typically, roofs of this shape consist of two parts — the steeper part of the roof, where there are two living floors, and the lower section, where there is only one living floor. Installation of Asymmetrical roof shape trusses and roofing takes a lot of work and time, therefore increasing the cost due to the complexity and volume.
Flat roof 
Flat shaped roofs are usually used for public buildings, apartment buildings and modern private houses. Their main advantages are easy accessibility as well as the possibility to install a spacious terrace on the roof, however, it should be noted that maintenance will have to be performed much more often and roofs of this shape are more prone to being damaged by rainwater and snow.
Cost of roof trusses 
The exact cost of roof trusses can be determined and calculated by looking at the design and at the building on which the roof trusses are planned to be installed.
The cost of roof trusses depends on the roof area, roofing materials and the complexity of the roof design.